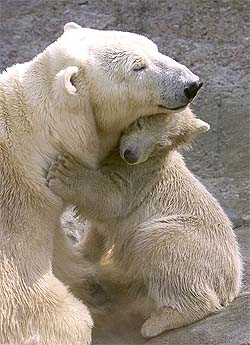 In our house, this past week has officially been dubbed "the week of Momma Bear" and I am completely exhausted from doing battle....
I am the first to admit that I have failed my dear gremlins as they grew up....I yelled WAY too much and as a single mom, I had ZERO patience...I have many regrets and have shared that fact with the gremlins....but in my defense I have also told they every single day of their lives that no matter what happens, I love them unconditionally and that will NEVER change!!!
All that being said, one thing I can say is that when one 0f my gremlins does something wrong I am FIRST in line to bust their ass ....but when someone else messes with MY gremlins unfairly, my momma bear instincts kick in and I do become a force to be reckoned with....one such instance that is the first to come to mind was when a litte farthead that loved to terrorize the neighbourhood kids decided to take my gremlins shoes and throw them into a fast moving creek (so no one could retrieve them)....I grabbed the little bastard's arm, dragged him over to his house and stood there as he explained to his Mom what he had just done...then told Mom that if she didn't have the money to replace them by Friday I WOULD be calling the police and letting them deal with it (this part was a bluff but she didn't want to take the chance...lol).
This week provided me with an opportunity to take my "momma bear" out for a spin. It all started on Tuesday when gremlin #2 came home from school. About a week ago, his music teacher told him that he needed to buy his own drumsticks. I knew that it would take us awhile to find the money for this purchase so I told him to explain that we couldn't afford them but would get them as soon as we could. My thinking was that we would get them for his birthday (which is the 19th of this month). Anyway, on Tuesday when he didn't have them for class the teacher made him write an apology and told him if he didn't get them for the next class he would have a week's detention.
My dear gremlin was quite upset when he was telling me what happened. When I asked him why he didn't explain to the teacher, he told me that he tried and she told him to be quiet because she didn't want any excuses. Well of course I saw red...I told him not to worry that I WOULD take care of it and there would be NO detention!!! I opted to go over the teacher's head to the principal. After 2 calls where I left messages, it became apparent the school was not interested in listening ...and I was getting madder by the minute. My next step was to call the school again and leave a message that if they didn't return my call within the hour I WAS going to do the following : 1) come to school and be very vocal as I collected my son to bring him home with me. then 2) start calling the school board and press. I reminded them that I was sure the press would love to listen to how a teacher verbally abused my learning disabled gremlin simply because we couldn't afford drumsticks. A fact that was completely beyond his control!!!
Well shock of shocks about 30 minutes later the vice principal called me back. I managed to keep myself under control and explain what had happened. I told him that I would NOT tolerate this kind of behaviour and that the teacher owed my son an apology. I reminded him that I was willing to go over his head to the school board if this situation was not resolved immediately. For that teacher to punish him when he had done NOTHING wrong, well that is just not cool and I was NOT going to let it slide.
I am actually very proud of myself...I wanted to scream...I wanted to use every dirty word in my vocabulary...but I kept my cool while telling him I would NOT accept this behaviour!! He told me he would look into it and get back to me...my last comment was that if there was any kind of retribution sent my son's way, I would find out and they would not like me.
I had barely hung up the phone when it rang again. This time it was gremlin #1 calling from the high school . She was crying because she had forgotten a sheet at home that I needed to sign. Her teacher was mad that she had forgotten it and had given her detention. All I could say is fuckkkkkkk I don't think so!!! I told her to calm down and go back to class. I reassured her that I would deal with it and there would NOT be a detention over something so stupid. Normally, I would have reminded her that it was her fault for being so absent-minded, but after the encounter with the other school I was still in "momma bear" mode. I got even angrier as I found the sheet in question, and it clearly said the dumb thing wasn't even due until Wednesday (remember this all happened on Tuesday).
I went to the high school and stormed in, ready to shoot first and accept apologies later. I marched in to the office, explained my daughter's call home THEN sh0wed them that the stupid sheet wasn't even due until the next day. I didn't even give them a chance to say anything, I just told them to pass this along to the teacher and let him know that my daughter will NOT be attending detention. As I left, I told them the teacher was free to call me at home so I could point out to him directly what an ass he had been...lol.
Weary and needing to calm down, I went home. As I walked in the door, the phone was ringing and I almost didn't answer for fear of what was next. Who do you think it was but the infamous music teacher. She called to tell me I had just misunderstood what gremlin #2 had told me. Big mistake stupid, stupid teacher...first she mistreats my gremlin THEN makes him sound like a liar...not her best move. I shut her down right away ...told her that I believe and back up my gremlin 100% and this was NOT going to happen again. She quickly changed her tune when she realized that she had awoken my inner beast and I was ready to rip her to shreds...
After a morning of protecting my "cubs" I was exhausted and ready to go in for the kill....but the end results were good...gremlin #1 did NOT serve her detention and didn't get in trouble (since the error was the teachers not hers)....gremlin #2 also did not have to serve detention...also the music teacher and I worked out a compromise that allows him to work on the computer with a new music program that I think he will really enjoy!!
This is not the first time I have had take my claws out and take on the school...and unfortunately, I am sure it won't be the last....but I think it is all summed up in one thing I told the vice principal....these are my gremlins....I will bust them everytime they do something wrong and will bust them again for making me bust them...but I will also be the first one to have their back...to defend their honour...and to claw anyone that is stupid enough to try to hurt my babies...
MOMMA BEARS WIN EVERY TIME!!!! (hopefully the schools will figure that out some day...lmaoooooooo)
As always, to be continued............