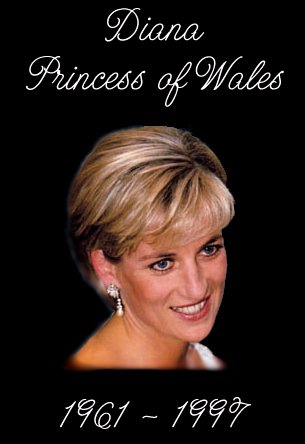 It hardly seems possible that it has been 10 years since a sad and terrible accident took the life of a young and beautiful soul. She is missed today... as much as she ever was...and there are many in this world, myself included, that have mourned her passing.




I remember the day Diana and Charles were married. I set my alarm and got up at 4am to watch the festivities live (and believe me there isn't too much that would have gotten me up at that hour..lol).
I enjoyed watching her float down that isle...she looked so beautiful and I thought she was the luckiest girl alive(of course we didn't know what was in store for her). I was glued to the TV all day watching highlights of the ceremony...and rebroadcasts over and over again...I remember it like it was yesterday.
I also remember that terrible night 10 years ago. I had gotten the kids to bed and I was up playing on the computer ( I am sure y'all are stunned by that..lol). It was very hot that night so I couldn't sleep....and the first news bulletin came on that Diana had been in a car accident. I sat staring at the TV in shock...immediately beginning to pray that she would be ok and not wanting to even consider the possibility that she might be hurt. Honestly it never even entered my mind that she might be dead.
As I watched and waited for word, I called my sister at work. She said she had also heard and would call me back if she got more news. About 10 minutes later, the news came on that she was, infact dead. It is one of those moments in my life I will never, ever forget. All I could do was sit there and cry...shaking my head, not wanting to believe it. I was in a state of shock and sat up all night watching TV, somehow hoping that maybe the news was wrong...and she would be ok... Looking back, I wonder if maybe that is how people felt when Kennedy or Martin Luther King were assassinated.
The day Diana was buried, I again got up at 4 am to watch the funeral. It struck me as odd that I have only done that twice in my life and both times it was for Diana. Honestly, I couldn't make it through her funeral...it was too much for me to handle. I taped that funeral and to this day, 10 yrs later, I have not been able to bring myself to watch it. I still have the tape...and I tell myself someday...but I still haven't seen it all.
Diana was a kind, gentle and loving woman. Like anyone she was human and made mistakes but she also gave of herself and used her position to help others and shed light on important issues. For that, she will forever be loved.
---------------------------------------------------------------


I have taken a few extra days to decide who to pass this award along to because honestly....I think you are ALL super wonderful and nice. It has been hard to choose just 5 and I apologize if I pass it along to someone that has already received it...here it goes...
1) Capt Corky -
I pass this award along to Corky because quite simply, he is amazing. His blog is hilarious, original and full of cute pics of Corky Jr(who is also amazing). Corky is a nice guy and always has a friendly word to say ...and if that aint enough he is a trekkie...how do ya beat that????lol
2) twas brillig - ok this gal is simply awesome and her blog rocks!! Her stories are a fantastic read...she is the force behind SOS along with her buddy Kate (who is also fantastic btw)...and she is also friendly to newcomers...I think she is great!!
3) JJ - This lady's blog is full of amusing stories of her dear sweet little girl and their family adventures. I thought of her for this award because she was really nice to me right from the start...and always responds to my comments (even the dorky ones..lol).
4) burfica - ok some of you who are regular fans of this gal might think..hmmmmm niceness and burfica in the same sentence?? lol. Although I have to say she is one of the snarkiest smartasses you will ever meet...I am telling you this. She greets everyone that visits her blog with a friendly comment and makes all feel welcome... I have no doubt that if any one of us needed her, she would be there without hesitation.
5) phoenix - this guy is a pretty cool dude!! Although not a daily blogger, when he does post it is always worth the wait. He is a fellow Canadian and was warm and welcoming to me right from the start. He has read my rantings and goofiness and left comments that alway make me smile and feel good. Even when life is kicking him in the crotch, he is still around with a friendly comment to cheer me up...what more can you ask for in a blog buddy.
Well, as I said, it was hard to choose...I love you all..and enjoy stalking you...hee hee hee.
See y'all tomorrow for SOS.
As always, to be continued.